Packages
Tailored for your needs
eMoo has numerous packages that can be narrowed down depending on what you are posting. These packages are available when you go to "Post an Ad" on eMoo.
Choose the appropriate package for the goods or services you're interested in selling or buying.
(Note: If you are a Business placing an ad, please contact info@emoo.bm or 272-3666 for pricing and submission details. eMoo reserves the right to pause or remove ads from businesses that inadvertently post using individual or consumer packages.)
Click the appropriate section to expand.
The following categories and classifications offer a great selection of options at zero cost. You can also purchase optional upgrades for this package:
FOR SALE:
CDs and DVDs
Free Items
Furniture and decor
Health Beauty Fashion
Hobby Recreation Toys
Miscellaneous
Yard Sales
COMOONITY:
Lost & Found
Non-Profit Orgs
Press Releases
Public Events
Sports
Employment - Job Wanted
WANTED:
Appliances
Bedroom
Bikes
Boats
Cars
Computers
Furniture
Housesitting
Misc.
Office
Pets
Real Estate Wanted
Renovation
Rentals Wanted
Services
Tickets
Want to Trade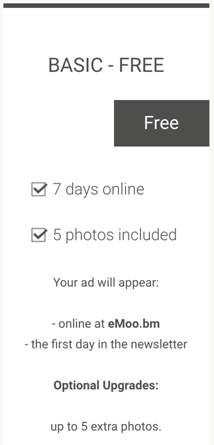 The following classifications under the For Sale category offer a variety of optional upgrades:
Business Opportunities
Commercial & Construction

This category and classification offers three great package options: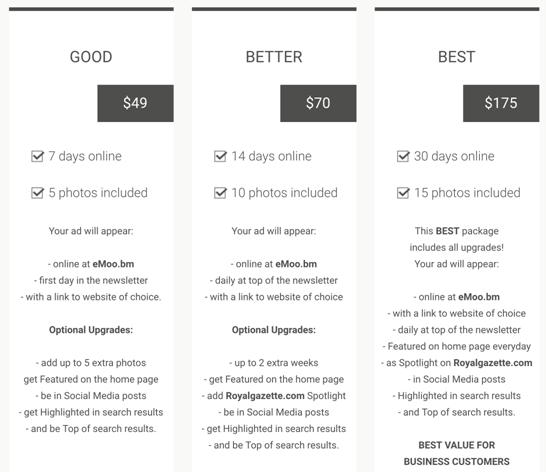 This category and classification offers two options, based on the selling price of the item: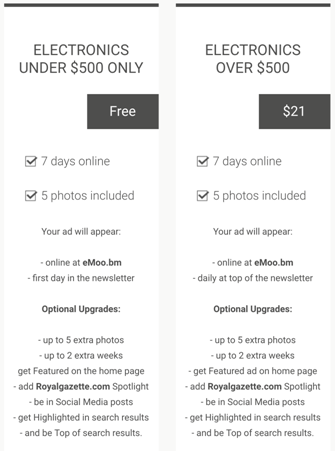 This category and classification offers two options: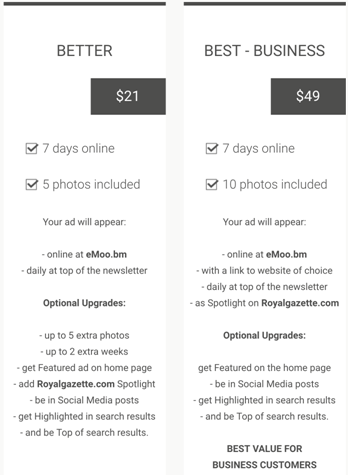 The following categories and classifications offer a great selection of options at zero cost. You can also purchase optional upgrades for this package:
TRANSPORTATION
Automotive & Accessories
Bikes
Boating/Marine Accessories
Campers
Cars - Used
Motorcycles /Scooters
Trailers
EMPLOYMENT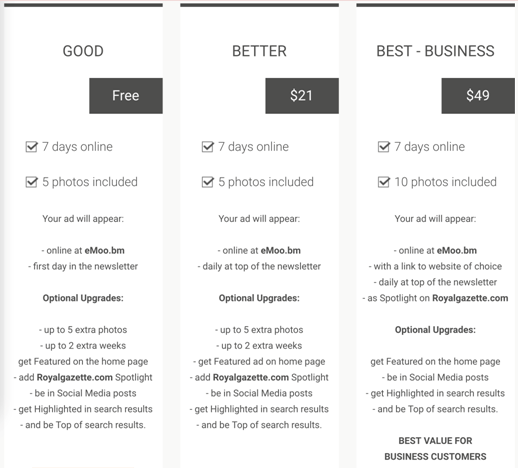 This category and classification offers three great package options: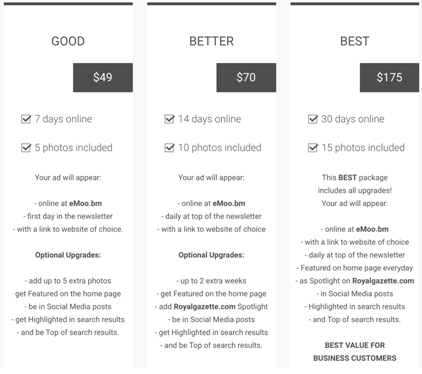 This category and classification offers three great package options:
SERVICES
Beauty
Cleaning
Construction
Event Planning
Healthcare
Landscaping
Miscellaneous Services
Tent Rentals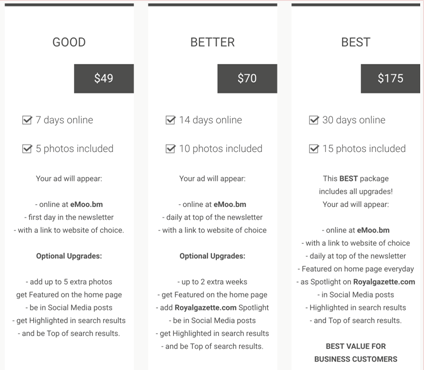 This category and classification offers three great package options:
REAL ESTATE: FOR RENT
Commercial Land
Houses and Apartments
Miscellaneous
Overseas
Shared
Short Term
Vacation
REAL ESTATE: FOR SALE
Commercial Land
Houses and Apartments
Miscellaneous
Timeshare
Vacation