How to eMoo
Buying. Selling. Advertising
How to sell on eMoo
Reach thousands of people on Bermuda's largest online market directly from your mobile phone, tablet or computer. eMoo is still secure as it has always been, faster to load and with our new auto-approve function, posts for items under $500 in value can go live instantly. eMoo reserves the right to review posts for goods valued over $500 before they go live.
There are five easy steps to sell your goods:
Create an account or login to your existing account by resetting your password.
Choose your eMoo free or paid package.
Add your photos
Choose whether to enhance your post (optional).
Submit your post
How to buy on eMoo
Safe. Easy. Fast. Buying on eMoo is better than ever. We've improved our search functionality and mobile-friendliness so that finding your next anything is easier. If you want to see our featured items on social media, be sure to follow eMoo on Facebook.
How to advertise on eMoo
If you are a business, eMoo offers two options:
Business packages that enable your goods and services to appear in listings
Business packages that offer display ads on eMoo as well as the eMoo Daily Deals newsletter, Facebook and the RG Spotlight
See all eMoo advertising packages
here
. Contact eMoo using
info@emoo.bm
if you need assistance.
eMoo reserves the right to pause or remove ads from businesses that inadvertently post using individual or consumer packages.
In certain instances, Classified ads submitted after 8:00 pm may not appear until the following day.
View our brief videos on how to sell or how to buy on eMoo here.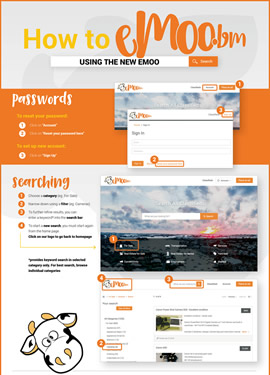 Click to view infographic in full (pdf file).